LTSP | The Continuing Saga of LTSP Screen Shadowing
14 Jul 2008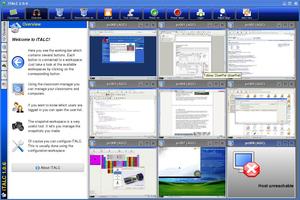 This turned out to be a complete nightmare, and took several days to resolve. I never did manage to get x11vnc working on the client, nor did I manage to get italc (which I think also uses x11vnc) working on the client. In the end I settled for installing italc-client on the server, so that the client runs when users log onto the server, allocating each user a unique port, and putting a little green italc icon in their system tray.
This required upgrading qt4 from lenny (hardly ideal) and still works like a pig. Well viewing is fine, but the remote control is unusably slow.
I found it impossible to manage the list of users in italc; which changes according to the whims of DHCP. I ended up writing a script to use the output of "who" to populate the globalconfig.xml file in /home/username/.italc; if I have time I will add the script to my install italc instructions.