Reprap Prusa Build Phase 1 Complete
06 Dec 2011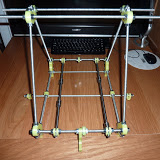 Phase 1 of the build of my RepRap Prusa is now complete and I have photographed it thoroughly, to assist others with their build and for general interest.
I have even taken a brief video, apologies for the lack of lighting:
The instructions I followed were the Prusa Mendel Assembly instructions, with modifications described in the Thames Valley Google Groups thread Frame bearing specifics?.
This Prusa is 16mm wider than standard, in order to allow for the heated bed. For further details on the design being followed, please visit:
Looking forward to Phase 2 of the build!