Bac Posture Stand - Laptop Standing Desk
15 Oct 2015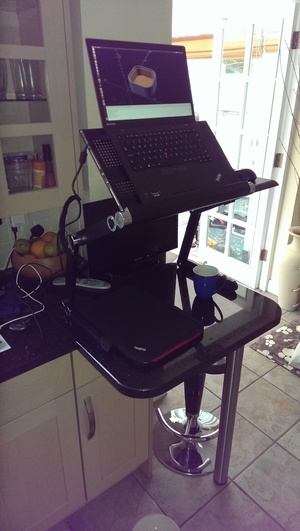 Being tall (6'2"), sedentary and over 40, I have succumbed to the inevitable back problems. Listening to Jono's review of the LIFT Standing Desk on Bad Voltage reminded me that I've been meaning to try out working standing up, at least for part of the time. I haven't gone for the LIFT, as I wasn't able to find it on Amazon UK, but I have purchased the Bac Posture Stand, better known on Amazon as Portable Folding Notebook or Laptop Table - Desk - Tray - Stand - (Black).
Hmm catchy.
It appears to be well made, although it does take a little setting up. There is no fan cooling, but there are holes for natural venting. One pleasant surprise was that it does include a mouse stand, which is not shown in the Amazon picture. There was a cheaper alternative, but the reviews led me to believe that this one might work out better. As I am not planning to buy both - I will never know.
It is early days and I don't yet have a standing mat for home, which I understand from that podcast is absolutely essential, but so far I am pleased with my purchase.
I have also invested in a VARIDESK Pro Plus 48 - Height Adjustable Standing Desk for work, along with a VARIDESK - Standing Desk Floor Mat.
I will review these in due course.