Cable Grommet For Desk or Dry Lining
03 Jan 2012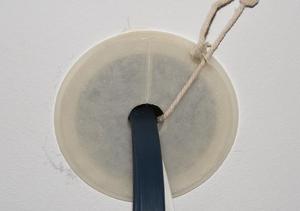 Having mounted my LED television on the wall I have a 80mm hole behind the TV, through which all the cables arrive. No-one can see it of course, but I know it's there and it needs finishing, otherwise I might start muttering incoherently.
So I decided to create a cable grommet to fit into the dry-lining wall. This is still very much work-in-progress, and in particular I need to find a way to cope with the necessary overhang on each side. It also needs a removable cap, so that you can easily feed additional cables, hopefully I will get these issues addressed very soon.
It was designed in openscad and fully parametric, it could doubtless be used for other purposes, including a desk grommet.
For more information please: