Sluggle IRC Bot
14 Jun 2016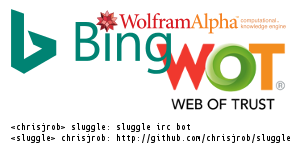 Today I released the first semi-stable version of sluggle, a simple IRC searchbot. The name is a contraction of Google and SLUG (an informal and inaccurate acronym for the Surrey Linux User Group).
Sluggle enables IRC users to search the Internet using Bing, to search Wolfram Alpha, to look up and shorten web addresses and to check the safety of sites.
For more details please visit sluggle.